In 1999 we started works in Reichstag, the seat of the German Parliament. KMW Engineering was responsible for a new ventilation system for the plenary chamber and the general ventilation system for other rooms (including those of political fractions). In the steel and glass dome of Reichstag we installed a special exhaust air processing unit with a heat recovery system. The dome itself weights over 1200 tonnes, forms a ceiling for the Parliament chamber, and is one of the most well-known landmarks of Berlin and Germany.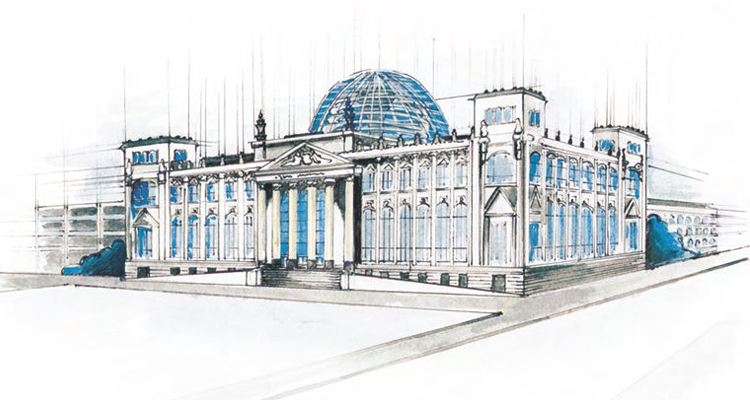 The delivery technical standard:
a special unit in the exhaust funnel of the Parliament dome, with the flow rate of 90,000 m3/h;
a block of inlet units and dampers supporting natural ventilation for the main debating chamber;
a block of units and panel duct for air conditioning and ventilation of political fractions rooms.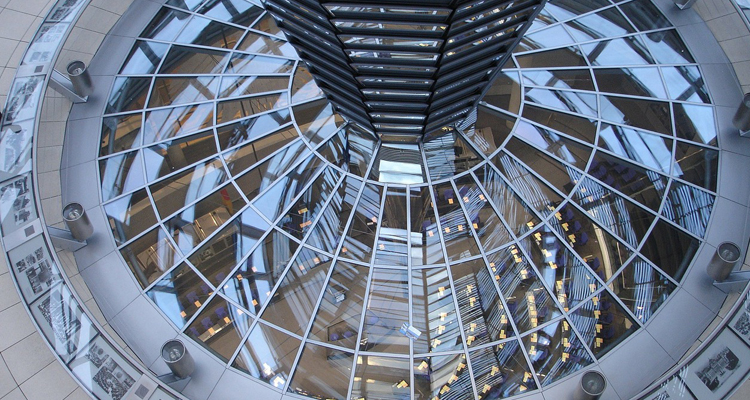 The Reichstag refurbishment was conducted in accordance with the concept of Sir Norman Foster, following the assumption of the original design from one hundred years ago. This concept involved use of natural ventilation in the Parliament dispute chamber. The design consisted of a system of air processing units supporting the natural flow. The air processing units had to be installed in historical rooms, and the new exhaust cone was fitted into the building dome. Contractors conducting works in Reichstag invited KMW Engineering to cooperate on design and execution of this difficult task. KMW prepared the design, and delivered and installed the whole system functionally described by the design office Kühn Bauer Partner.
The design of the German Parliament building, Reichstag, was very modern, yet for 40 years it lacked the dome. In 1884 the design engineers constructed a natural ventilation system, with air flowing through ventilation shafts supplying fresh air to the debating chamber. The system ensured effective ventilation supported with fans powered by steam machines, which were replaced with electrical drives at the beginning of the 20th century. The air was removed through the dome. After the Second World War and two fires, the building was used as a congress centre. After reunion of Germany, the original concept was followed, with a natural ventilation system constructed in the main chamber. The new, modern dome has numerous functions.
The glass dome provides natural light for the Debating Chamber. A spiral walkway was installed inside of the dome, allowing visitors to climb to the top of the dome and view the Berlin panorama. The most important component is the ventilation funnel, in which the exhaust and smoke removal system with heat recovery was installed.